Archive for the 'Poems' Category
Posted in Aqeedah, Arabic, Islam, Knowledge, Poems, Tawheed, Tawheed Asma Allah wa Sifat, tagged aqeedah, Conditions of La Ilaha illa Allah, deen, ilm, Islam, knowledge, La ilaha illa Allah, muslim, muslimah, Muslims, Salafi, student of knowledge, tawheed, tawhid on August 22, 2014| Leave a Comment »
Poem on the Conditions of La Ilaha illa Allah – Arabic/English translation for easy memorization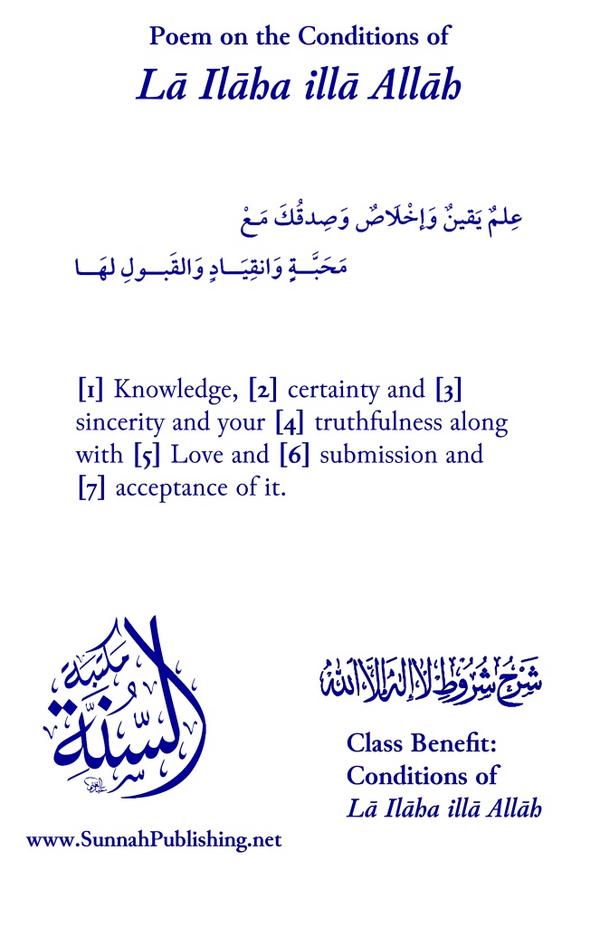 Posted in Fasting, Forgiveness, Islam, Mercy, Poems, Ramadan, Today's Events, tagged dhikr, fasting, hasanat, Islam, muslim, muslimah, qiyam, Quran, Ramadan, ramadan 2014, ramadan poem, ramadhan, salaf, salat, siyam, ummah on June 27, 2014| Leave a Comment »
English Translation:
Ramadhān has come, O people of understanding




So welcome it after its long absence.




A year from our life has passed while we were in a state of heedlessness




So pay attention for life is like the shadow of (a fast-moving) cloud.




And prepare yourselves for patience and hardship,




For the rewards of those who have patience are beyond measure.


Allāh rewards those who fast because for His sake they held easy that which is hard.


None shall enter the Gate of Rayyān except the one who fasts.




How excellent indeed that Gate is among the other Gates!

    ;
Arabic Text:
رمـضانُ أقـبلَ يا أُولي الألبابِ
فاستَـقْـبلوه بعدَ طولِ غيـابِ
عـامٌ مضى من عمْرِنا في غفْلةٍ
فَتَـنَبَّهـوا فالعمرُ ظـلُّ سَحابِ
وتَهـيّؤوا لِـتَصَـبُّرٍ ومـشـقَّةٍ
فأجـورُ من صَبَروا بغير حسابِ
اللهُ يَجزي الصائـميـنَ لأنـهم
مِنْ أَجلِـهِ سَخِـروا بكلِّ صعابِ
لا يَدخـلُ الـريَّـانَ إلا صائـمٌ
أَكْرِمْ بـبابِ الصْـومِ في الأبوابِ
______________________________________________________________________________________
This was presented by westlondondawah.net  in association with Al-Binaa Publishing
______________________________________________________________________________________
Posted in Dhikr, Dhul Hijjah, Du'a, Dunya, Hajj, Ibn al-Qayyim, Islam, Jannah, Poems, Sunnah, tagged dhul hijjah, dhul-hijjah, dunya, glimpse of Hajj, hajj, hajj 1434, hajj 2013, ibn qayyim, Islam, journey, Kaabah, kaba, life, madinah, makkah, masjid, masjid haraam, mecca, today, travel, world on October 13, 2013| 1 Comment »
At the Ka'bah



ولمَّا رأتْ أبصارُهُم بيتَهُ الذي = قلوبُ الوَرَى شوقًا إليهِ تَضَرَّمُ
كأنهمُ لمْ يَنْصَبُوا قطُّ قبْلهُ = لأنَّ شَقاهُمْ قد ترحَّلَ عنْهُمُو
فلِلَّهِ كمْ مِن عَبْرةٍ مُهْرَاقةٍ = وأخرى على آثارِها لا تَقَدَّمُ
وَقدْ شَرِقتْ عينُ المُحِبِّ بدَمْعِها = فينظرُ مِن بينِ الدُّموعِ ويُسْجِمُ
إذا عَايَنَتْهُ العَيْنُ زالَ ظلامُها = وزالَ عن القلبِ الكئيبِ التألُّمُ
ولا يَعْرِفُ الطرْفُ المُعايِنُ حسْنَهُ = إلى أن يعودَ الطرْفُ والشوقُ أعْظمُ
ولا عجبٌ مِن ذا فحِينَ أضافهُ = إلى نفسِهِ الرحمنُ ؛ فهو المعظَّمُ
كسَاهُ منَ الإجْلالِ أعظمَ حُلةٍ = عليها طِرازٌ بالمَلاحَةِ مُعْلَمُ
فمِنْ أجلِ ذا كلُّ القلوبِ تُحِبُّهُ = وتَخْضَعُ إجْلالا لهُ وتُعَظِّمُ
:
:
:
When they see His House – that magnificent sight For which the hearts of all creatures are set alight – It seems they've never felt tired before, For their discomfort and hardship is no more. Now the eye of the Lover drowns in its streams, It sees through its tears the goal of its dreams; Now for Allah, how many tears are issued, Each one being followed by a multitude? When the eye perceives the House, its darkness clears, And from the sorrowful heart, pain disappears; Vision cannot encompass this beautiful sight: Each glance returns with greater delight! No wonder at this, for when the Merciful preferred The House for Himself, it became most honoured. He clothed it in Majesty, a magnificent garment; Embroidered it with Beauty, a wonderful ornament! The hearts all love the House therefore, Awed and humbled, in respect and honour.